LinkedIn, the B2B lethal weapon 
With over 610 million registered professionals, LinkedIn is the social network for businesses par excellence. In addition to bringing professionals together in one place, LinkedIn offers several services that allow you to engage your community. By mastering the codes of this social network, you will quickly learn how to lead an effective content strategy and give credit to your brand's expertise on social media.
Out of the 30 million registered companies, many unfortunately make the mistake of skimming over this tool and content themselves with having a LinkedIn page to have a presence on this social media platform. You will see that your page does not stop at a company page. By deploying all its potential, you can achieve amazing results.
Let's decipher together the different functions that are available to you on LinkedIn and see how their good implementation can be an indispensable asset in your digital communication strategy.
#1 Engaging your community 
94% of B2B professionals use LinkedIn to distribute content. The sharing formats are varied and you can alternate the types of content that you publish online. The advantage of having a multitude of choices in form is mainly to avoid repetitive publications that can tire your readers. On social media, you need to renew yourself and be creative to capture and keep attention.
Relevant content will benefit from organic distribution in your network. So always think about the relevance of your publications and adapt the format for a better rendering.
There are 3 main types of content that you can alternate on your page. We have grouped for you some examples to use in your B2B activity to fulfill your objectives (acquisition, loyalty, brand image or notoriety).
Brand content: This is content produced by a brand in a content marketing logic.
Remember that your content is inseparable from your brand image. Be informative, educational, relevant, and if possible, interactive to engage your professional network! 49% of companies report getting a higher ROI by prioritizing engagement over acquisition. Companies often share White Papers, eBooks or infographics on their activities in fairly traditional formats. To bring a little originality to your content, you can make it interactive using specialized software like Snapapp that will transform your static white papers into a visual experience.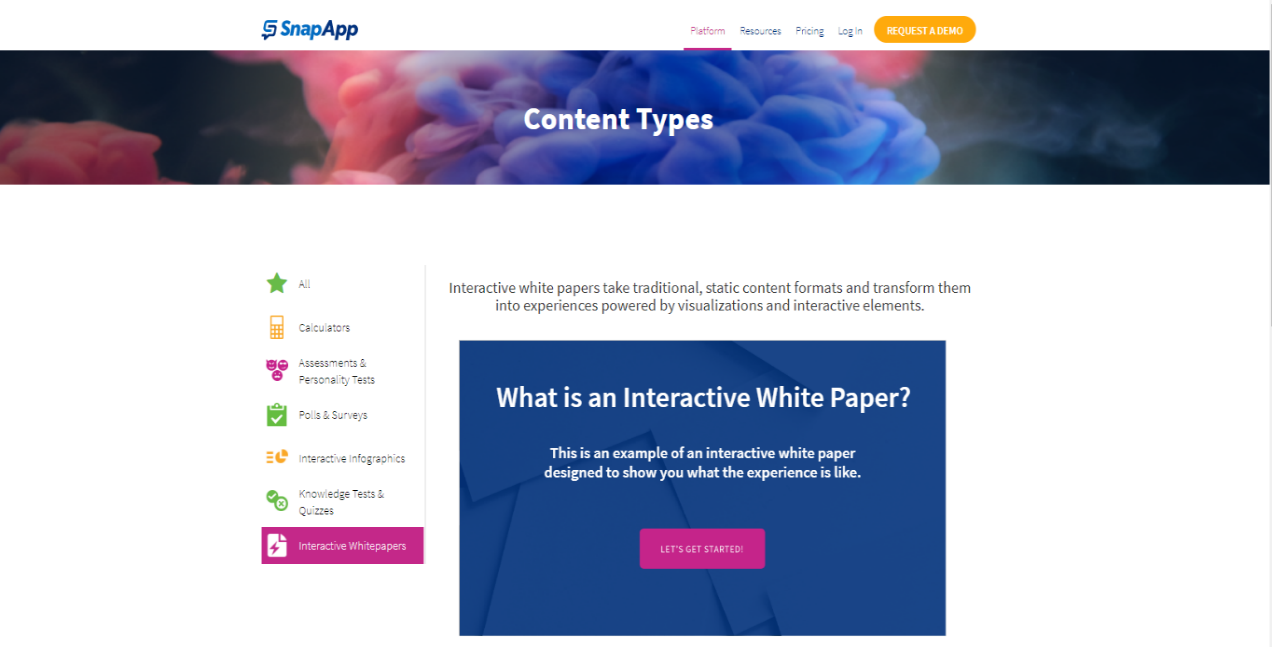 Curated content, that is, the content you will select on the web about given themes, is also a type of content that you will need on your LinkedIn page. You will not be able to feed your audience only with the content you produce. You will also have to draw from the rich quantity of studies and articles that are published daily by other sources. 36% of users rely on their network to share the latest news, you can indirectly be part of this network.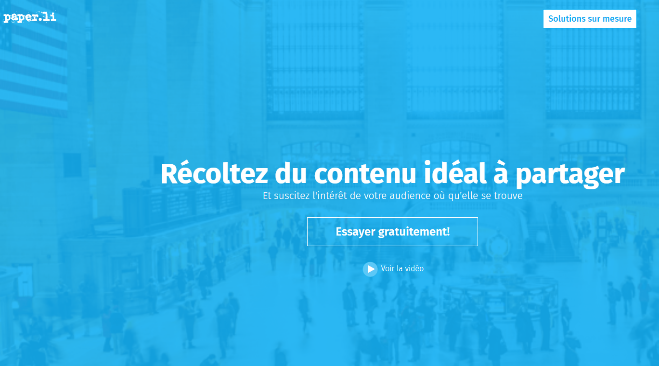 If you are already trying to share news with your network, you are certainly used to doing your own watch and navigating from site to site in search of relevant content. To save time, we suggest you use a feed aggregator.
Feedly and Paper.li are two well-known examples of aggregators. These two platforms will allow you, thanks to their technologies, to make your queries on the topics that interest you and to group content in one place. In addition to that, both platforms have a built-in LinkedIn sharing function!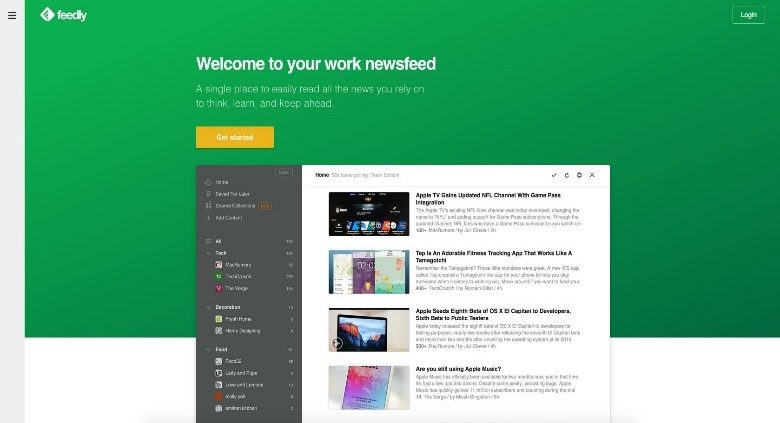 User-generated content (UGC) is also an essential content for your page. Show your community that you read and share their content, this will solidify the sense of proximity. This is what is called a customer-oriented or human-centered approach. We often see companies too focused on their corporate communication on LinkedIn and not giving enough voice to their community.
Google, one of the most followed companies on LinkedIn, did not hesitate to showcase a rather original content created by one of its employees. The employee provided programming courses in drag queen to break with traditional learning methods and to highlight his passion.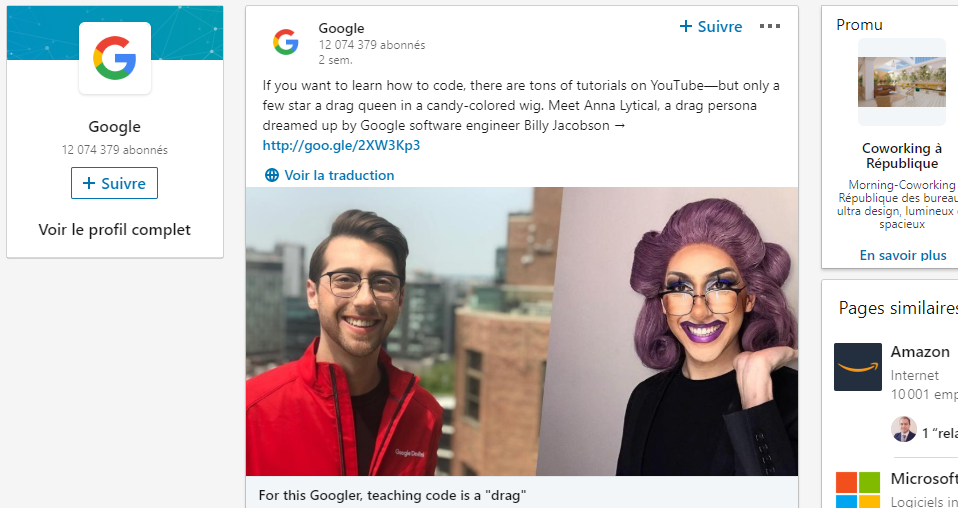 However, not everyone has Google's community and the reach of your posts can sometimes be lower than expected. If the relevance of your content can be questioned, it is also possible that you simply failed to reach the right audience.
The intelligent use of these three types of content is essential for engaging your community. This is especially true for companies that are less present on social media, where your natural reach may be too low or you may not have the right audience (e.g. former candidates, employees).
To reach a larger and more targeted audience, mastering sponsored campaigns is an essential solution.
#2 LinkedIn Ads Campaigns 
If you work in B2B, you certainly want to target professionals within your network who are most likely to be converted into leads. And LinkedIn understands this very well. The platform can even boast of being the #1 lead generator platform.
Thanks to its database provided by the users themselves, it knows the geographical location, education, interests, and professional background of each user. As a result, it offers different advertising models that you can use to promote your content.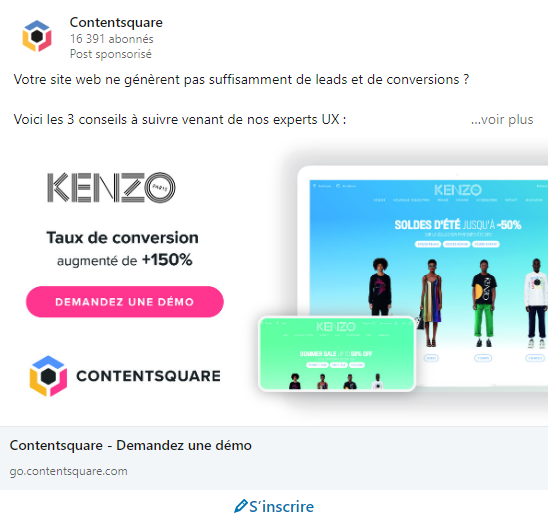 Sponsored posts allow your publications to reach a specific audience selected outside of your followers and visitors. The performance of sponsored content can reach a 19% increase in CTR and up to a 53% increase in conversion rate.
Sponsored content is sent to the news feed of your targets, and you can choose to display it or not on your page. Here's a good example of sponsored content in both its content and form.
It starts with a problem that may concern you. It then proposes to show us solutions with proof of results from a credible brand. The content is concise, precise, and includes several CTAs (call to action) to encourage us to fill out a form. LinkedIn offers best practices for publishing sponsored content, one of which concerns the length of the title and indicates that short titles are more likely to encourage interaction. To see the complete list of best practices, visit their website.
Sponsored InMails are an even more direct approach as they are messages sent to LinkedIn messaging. The big advantage of this solution is that it is only sent when members are active and the probability of reading is high. By targeting the right people to whom you will send this message, you greatly increase the chances of attracting attention.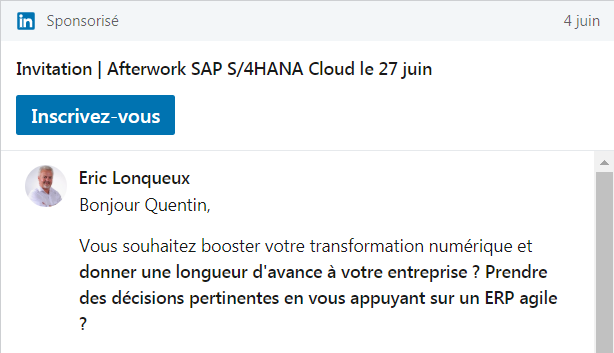 You can also buy ad space on LinkedIn. They will appear on the edge of the page and work like Google Ads, you will be billed on a cost per click basis. Far from being the most elaborate acquisition method, it can still be effective if you master the code of the headline. Add an image to it, and you will gain an average of 20% more clicks.
The example of Hubspot is quite representative. The company recorded a 60% increase in click-through rates on LinkedIn by running a very direct text ad. This experience was the subject of a success story as follows.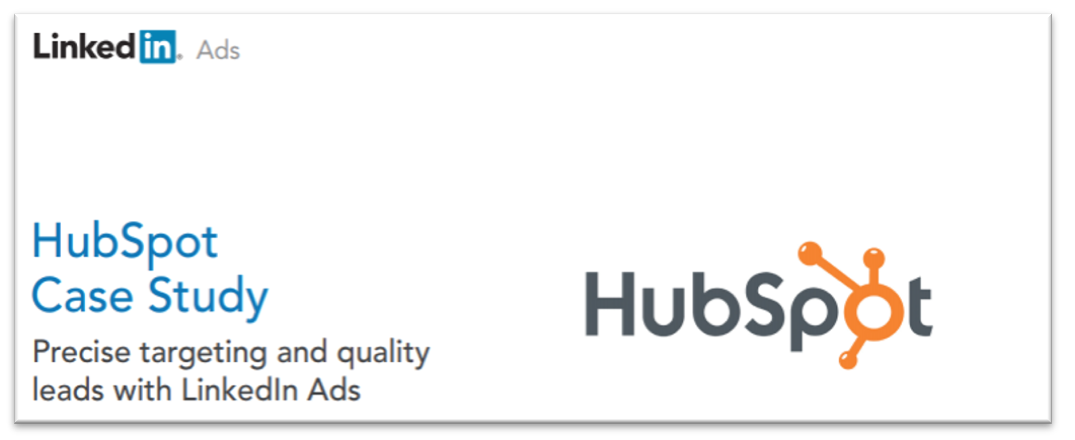 You now have all the tools to develop and strengthen your brand on LinkedIn. However, part of this strategy requires a financial investment. Ads on LinkedIn have a cost, and you may not be ready to commit to such a budget. Moreover, it can sometimes seem impersonal or even intrusive. In this case, you still have a more economical but surely more difficult method to implement.
#3 Engage Your Employees: Employee Advocacy
Turn your employees into true ambassadors for your brand. Encourage them to share your brand's content, inspire them to proudly represent your values, and reward them for their involvement. This is what's called employee advocacy, making your employees passionate defenders of your brand. More than one in two communication directors surveyed on Employee Advocacy have already concretely implemented this project.
Why is it so important? Because an employee's speech is often perceived as more authentic, and it allows you to directly reach their network.
How to do employee advocacy? You can inspire your employees on a daily basis, or there are specialized platforms for sharing content by employees. Smarp is one of them.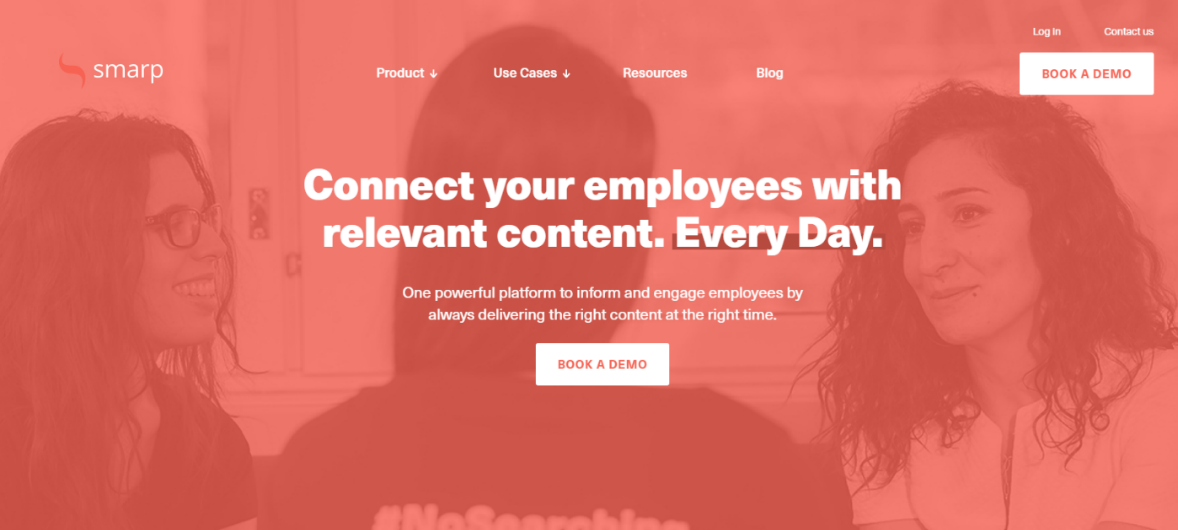 Smarp is an employee advocacy solution that allows you to track employee engagement on social media. Its use is intended to promote information sharing both internally and externally. It is connected to social networks such as LinkedIn and contributes to the dissemination of the brand's messages. 
The Sociabble platform is also an excellent tool for getting your employees involved in promoting your company. It is a social media aggregator. Sociabble provides employees with a unique central point to find content from internal or external company media. They can then share it directly on their own social media.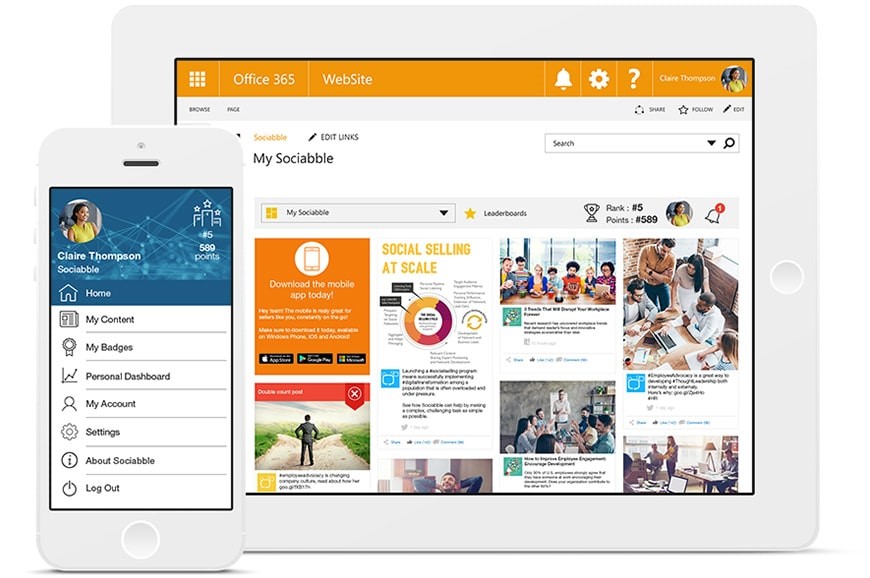 You now have all the cards in hand to effectively manage your company's communication on LinkedIn with your professional community.
Three key points to remember: animate your community with relevant and varied content, set up the right advertising campaigns for the right targets, and finally engage your employees by making them the spearheads of your communication.
N'hésitez pas à partager cet article !
"LinkedIn, the B2B lethal weapon "