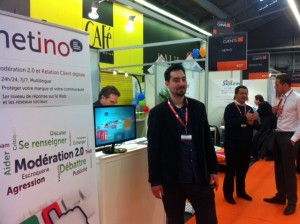 Stratégie Clients conference took place on 16, 17 and 18 April, and welcomed over 13000 visitors, more than 200 exhibitors and 6000 listeners.  The 3 days were jammed packed, and we concluded that there were 3 main themes :
the client needs improved support in click-to-chat and/or help & advice forums;
multi-channel client communication is becoming more and more centralized;
clients are becoming more and more demanding.
Numerous conferences, workshops and round tables allowed visitors dive into innovations and best practices in the domain continuously changing!
If you like to virtually assist the conference, Relation Client Magazine published 3 storifies :
You can also look for tweets using hashtag #strategieclients. We may see you at 2014 edition!
Partagez l'article
"Netino, at the 2013 « Stratégie Clients » Conference"