The keys to a calm moderation for your brand image
Content moderation is often an essential step in managing a brand's social media presence, especially in terms of its e-reputation. In fact, there is an increasing amount of hateful comments being posted on social media. It is therefore essential to establish rules that allow for consistent and coherent moderation. But moderation must also respect the freedom of expression of internet users. It is not about becoming a censor of all exchanges!
Depending on the brand, there is a charter that is sort of the "Bible" of the moderator. The moderation charter is the essential support for the moderator to properly manage comments.
Listing several categories of words or expressions deemed "off-topic," this document allows the moderator to make his or her choice more quickly while respecting the brand's position on certain sensitive or non-sensitive topics. Some messages will be deleted, others will be hidden depending on what this official text establishes.
Moderation can be done on Facebook, YouTube, forums, comment sections on websites… in short, everywhere there is the possibility of reading or posting public comments on brand spaces. It is often the person in charge of Community Management for the brand who handles this task. However, one person is not always enough to do this moderation work, as social media is unpredictable (even in the evenings and on weekends). Likewise, it is not always clear when a comment should be deleted or left visible to everyone…
Here are our two essentials on content moderation.
| In what case can a brand consider a comment should be deleted?
Deleting or hiding a comment is never easy. Indeed, this work, which is intended to be objective, will always have a subjective aspect on the moderator's side. It is important to keep in mind that moderation is there for the common good: both of the internet user and the brand. Moderating sensitive content helps maintain friendliness and safety in public digital spaces.

Homophobia, racism, sexism… some comments deserve to be deleted, as they are simply illegal! Even if the majority of internet users are not spiteful commentators, some trolls sometimes try to cause trouble, which can disturb other internet users.
Of course, everyone has their opinions, and an internet user has the right to criticize a brand, but only if it is done politely, without insults and vulgarity. Any criticism armed with an argument will not be deleted, nor will the obscenities (for some brands). For example, note the difference between "Shit! This is crazy" and "This person is just shit!" The first message is an exclamation, the second is clearly an insult that targets an individual.
For many brands, however, any message containing insults, vulgarity, defamation, or aggressiveness will be deleted in order to maintain a certain form of harmony in the comments (e.g. "Get out" to an internet user will be deleted because it directly attacks a person present on the platform).
Calls for violence and hatred are obviously considered illegal statements, just like calls for rape and murder. This is a problem that news sites are regularly confronted with, for example, because the publication of news often sparks controversy among internet users. Likewise, if an internet user rejoices in the death of a person mentioned in the news, their comment will be deleted.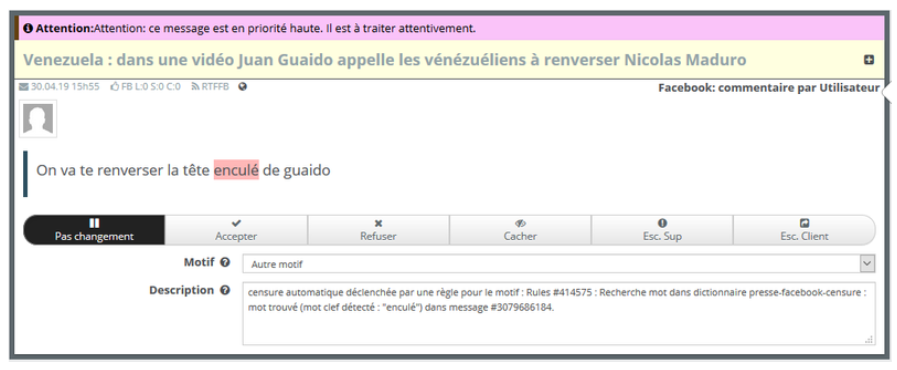 Finally, it is always necessary to check the context of the comment to determine whether it is deletable or not. For example, if a message contains a link, it is preferable to check it, and delete it if it redirects to dubious content (such as pornography, for example).
Of course, every brand must identify its own limits. What is not acceptable for one may not be deleted for another. For example, certain brands place special emphasis on the tone used in the comment sections. A luxury brand may delete very informal language, whereas a startup in the video game industry may tolerate it perfectly well.
| Is being (very) responsive essential to good moderation?
When moderating a space, no matter what it is, it is important to keep in mind the average volume of messages to be processed.
If you receive an average of 10 messages per day, one person can easily handle the workload. But if your volume is very high (around 500 messages per day), you will need help.
Likewise, what do you do on weekends and evenings when your teams are not working? Without a complete and dedicated team, the moderation policy you have determined will be useless!
So, two solutions are available to you! You can develop your team internally or choose the services of a provider who will accompany you 24/7 by placing specialized freelancers with you. Depending on the sensitivity of the content you receive on a daily basis, it is advisable to seriously consider outsourcing this type of task.
Moderators trained in a policy, focused on reading your comments, guarantee quality work. For example, using moderation tools (such as Modératus), our moderators perform a double reading of comments, know how to give appropriate responses (determined with you in an FAQ), and know how to organize the processed messages in a meticulous manner (in drives or directly on the platform).

Being very responsive allows you to maintain a good brand image, avoid Bad Buzz, and also develop your customers' satisfaction rate. Internet users are very demanding in terms of the time given to their needs. It is important to always give a quick and appropriate response to questions, criticisms, and comments. However, prioritize messages in order to process the most urgent ones first!
Your public spaces on social media are the showcases of your brand on the Internet. Facebook page, forum… you may feel that these platforms belong to you, but they can quickly slip away from you!
Only with the support of a team of trained and efficient moderators at all times will you be able to carry out serene moderation that will protect your brand, as well as your users.
N'hésitez pas à partager cet article !
"The keys to a calm moderation for your brand image"