Instagram guide to being trendy
In just 11 years, Instagram has gone from the "little guy in social media" in 2010 to one of the most important and attractive networks in the digital world, surpassing one billion monthly active users.
To the point that "the platform of influence" is experiencing a growth rate that exceeds that of its main competitor, Snapchat, and its parent company, Facebook.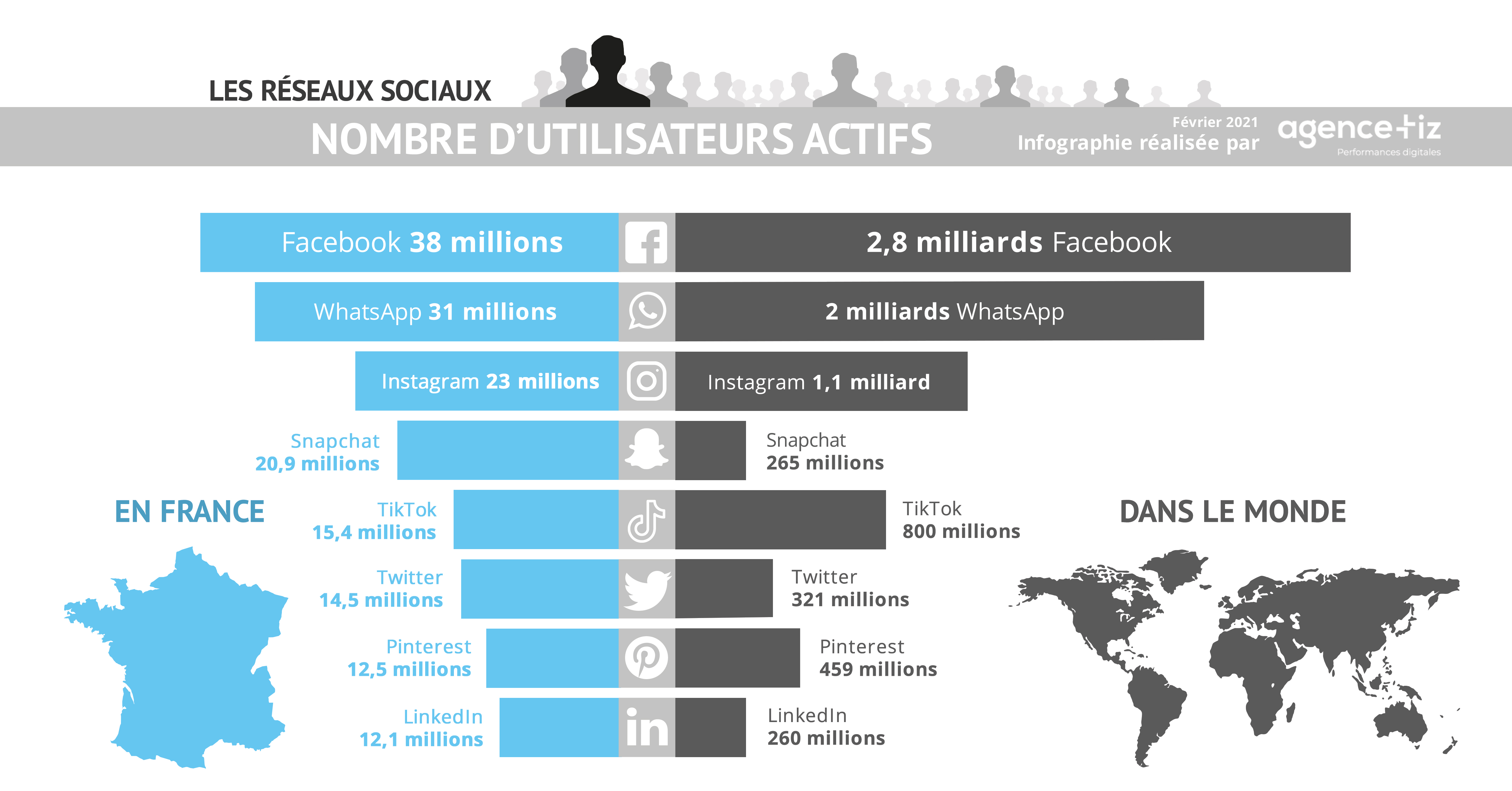 Before we give you our tips for standing out from your competitors on Instagram, here's a slight collection of numbers that will help you understand the importance of this medium:
90% of subscribers follow at least one brand on the platform
+100 million photos and videos are shared every day
Instagram has 25 million business accounts and over 500,000 active influencers
78% of marketers use Instagram in their B2C digital strategy
About 33% of the most viewed stories come from a brand.
81% of French social media users use Instagram to discover or learn about a brand, company, or product.
#1 Instagram's algorithm
Instagram took time to perfect its algorithm. Indeed, advertising arrived only five years after its creation. It is partly thanks to the help of its big brother Facebook that things have evolved significantly to tend to display fewer and fewer publications in the news feed and push brands to use Instagram Ads. So how does it work now?
Source: emarketinglicious.fr
Main factors:
Interest: What interests you the most based on what has already been collected about you
Freshness: The latest posts published in your community
Relationship: Accounts with whom you interact the most
Secondary factors:
Frequency: Your connection frequency
Subscriptions: The variety of accounts you are subscribed to
Usage: The average connection time of your session
Our advice to take advantage of Instagram's algorithm:
It is advisable to post regularly. It's better to stick to 2 or 3 times a week than to alternate between periods of overproduction and lulls. An extended absence weakens you in Instagram's algorithm
Do not forget to converse with your community because exchanges with other accounts please the algorithm
Obviously, using hashtags favors a more significant presence on the Explore Page. However, like all good things, you should not abuse it. The recommended volume is 5 hashtags per post for businesses. Finally, you should always be careful about "Shadow Ban." This is applied when Instagram detects abnormal activity on a profile.
#2 The three tips to increase visibility
Community, I love you
Commenting or sharing content from your audience is the best way to boost your page, always mentioning the author. Moreover, it is also a considerable time saver since it allows you not to exhaust yourself in creating a qualitative type of video or photo.
The other positive point of highlighting your audience is that you will position yourself as a brand that pays attention to what is happening on Instagram and you will highlight the interest you have in your community. Not to mention that your followers will also have the ambition to appear on the page of their favorite brand… The Holy Grail!!
Think Human !!! Liking, commenting on the content of others is a simple and quick act that allows us to highlight the human side of social networks. Other gains for you? The internet user will thank you if he is kind and may even subscribe to your page. If not? Well, he will at least start to get to know you and become interested in your brand as time goes by.
The art of timing
In 2019, the Digitalizeur established best practices for Instagram post scheduling. According to them, the best times for an international audience are between 2am and 5pm EST (New York time). For a local audience, the ideal times are between 7am and 9am in your time zone or after 5pm, when users are often online during their commutes.
However, this does not necessarily mean that these are the best times for YOUR brand! The "best moments" for posting depend on your industry, as well as the different communities that follow you. So how do you find the best time for your account? How do you understand your audience's habits?
The best practice is to switch your Instagram account to a Business account. Why? Because this will give you access to the Instagram Insights analysis function, a gem of technology.
Instagram Insights allows you to decipher your audience's habits and usage trends, such as their geographical location, demographics, and the evolution of likes, comments, and more. But most importantly for you, it provides a graph that analyzes the days and times when your followers are most active.
#3 Stories: the trend of the ephemeral
Stories are often neglected and misunderstood by brands. Why? Because they only last 24 hours, and for many, that's too short!
FALSE, social media users love ephemeral content. Two reasons: they love the "spontaneous" aspect, and they enjoy short content that can be viewed instantly! If stories are in high demand among social media users, it's because this type of content has become viral and is present on Instagram, Facebook, YouTube, Snapchat, and more.
In addition, stories are spared by the algorithm, which does whatever it wants. This content therefore allows you to reach your entire audience for 24 hours.
So what kind of content works best for this particular format? We suggest some ideas that will help you aim even higher 😊
Engage through games: if you want your community to be as responsive and interactive as possible with your posts, offer them attractive content, such as contests, for example.
Reveal your secrets: show the atmosphere within your teams.
Ask for your community's opinion through surveys.
Notify your audience of your events: the release of a new article, product launch, party, trade show, and more.
---
We hope you enjoyed this article! If you want to learn more about other platforms, don't hesitate to read our articles or contact us 😉
N'hésitez pas à partager cet article !
"Instagram guide to being trendy"